A Price Too High: An Autobiography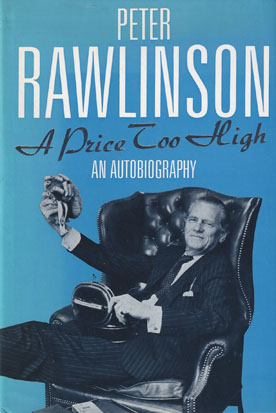 ISBN13: 9780297794318
ISBN: 0297794310
Published: April 1989
Publisher: Weidenfield & Nicolson
Country of Publication: UK
Format: Hardback
Price: Out of print

Out of Print
In A Price Too High Lord Rawlinson recalls his life in law and politics with frankness and wit. A stylish and glamorous figure himself ('these past three decades he has been to his profession of barrister what Larry Olivier has been to the theatre', declared the Daily Mail in 1985), he writes candidly, humorously and unpompously about the great and famous in many walks of life.
The son of an army officer who withdrew to the Sussex countryside and set about writing plays and films, the young Peter Rawlinson saw many exciting figures. Kipling was a family friend; C. B. Cochran a close professional acquaintance.
After the war, and service with the Irish Guards in North Africa, Peter Rawlinson began his legal career in the chambers of Sir Walter Monckton and he recalls other great figures of that era - Sir Patrick Hastings and Lord Goddard, Beaverbrook and Churchill ('Pray have some tea', said Churchill to the young candidate, meaning whisky and soda and cigars).
He was soon involved in some sensational cases, such as the Towpath Murder case, Ruth Ellis - the last woman to be hanged in Britain - and the libel defence of General Anders.
By now married to his American wife Elaine ('the most beautiful M.P.'s wife'), Peter Rawlinson arrived in the House of Commons in 1955 in time to witness the bear-garden of Suez. In 1962, after Harold Macmillan's 'night of the long knives', he became Solicitor General and was one of thekey ministers in the Profumo crisis and the Vassall affair.
Back in Government as Attorney General in 1970-74, he prosecuted the monstrous Hosein brothers (who had kidnapped and murdered Mrs McKay in mistake for Mrs Rupert Murdoch) and the IRA London bombers, as well as Rudi Dutschke and a number-of spies.
After leaving active politics in 1974, Lord Rawlinson had another eleven hectic and successful years as a barrister at the very top of his profession, including the five-month-long defence of the Daily Mail against the Moonies ('It had been an effort and a strain. But, I thought to myself, I would rather be doing this than anything else on earth.')
He reflects on some developments over the past decades - the decline of ceremony in the Catholic Church; the intractable problems of Northern Ireland; the erosion of the independence of the Law Officers; the seeds of the enmity between Ted Heath and Margaret Thatcher. He describes the heavy police protection that he received as Attorney General and the strain involved for himself and his family, and the high price - too high- that a politician's family has to pay.
These are the civilised and compassionate - and wonderfully readable - memoirs of a man who has lived to the full a rich and varied life