A Portrait of Fryn: A Biography of F. Tennyson Jesse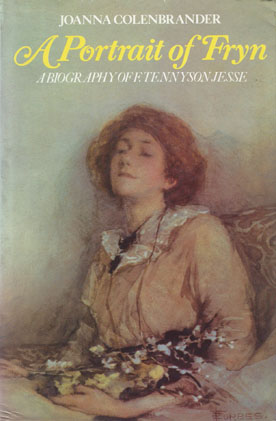 ISBN13: 9780233975726
ISBN: 0233975721
Published: September 1984
Publisher: Andre Deutch
Country of Publication: UK
Format: Hardback
Price: Out of print

Out of Print
When Fryn Tennyson Jesse died in 1958, Dame Rebecca West wrote that she had been in her youth 'one of the loveliest girls of her time, far surpassing all the more advertised beauties', and added that it did not seem inappropriate that one old man, well known in literary circles, had insisted (to Fryri's dismay) on calling her his 'golden lass'.
This beautiful girl was also a creator. She began by painting, bur soon turned to writing. Her first story came out in 1912, her last novel in 1956. Outstanding among her many intervening works are the novels The Lacquer Lady and A Pin to see the Peepshow (both now available as Virago Modern Classics), and the famous introductions to the six volumes of Notable British Trials she edited, which, with her major study Murder and its Motives established her as exceptionally perceptive about the criminal mind. She was a boldly original thinker on many as peers of human behaviour.
Joanna Colenbrander was close to Fryn for the last ten years of her life, and inherited her copious family papers: diaries, letters, sketches for autobiography, and the wonderful great scrap-books kept by Fryn's father and called the Annales Tennysoniani.
Even before she studied them she had learnt from personal acquaintance that the 'golden lass's' life had been tragically flawed. First the consequence of a terrible accident, then a strange feature in an otherwise very happy marriage, had thrown Fryn off balance. (Perhaps, too her Tennyson blood contributed to this: her great-uncle Alfred's family was known for moods of gloomy insrability.)
As a result, a woman of great generosity, humour, imagination and energy was enveloped from time to time by dark clouds of incapacitating - sometimes suicidal - distrust and despair. The most amazing aspect of her story is her triumph over this difficult fate. Love, work, friendship, her gift for enjoyment - all these she was able to preserve against the storms through which she had to pass.
In this deeply affectionate biography Fryn is allowed, to a great extent, to speak for herself; and so too is her husband, the delightful Tottie (the playwright H. M. Harwood). We learn of an alarmingly victorian childhood; of escape into the dewily innocent 'bohemianism' of an art school in Cornwall; of effortless triumph in London; of courageous work as a war correspondent; of sparkling fun during the twenties; and then of a career as a successful writer, married to another such, which was shadowed, certainly, but which remained very rich.
We are left with a clear picture of a woman of originality and charm. Getting to know her is both a pleasure and a valuable extension of experience.