Law and Practice of International Banking 2nd ed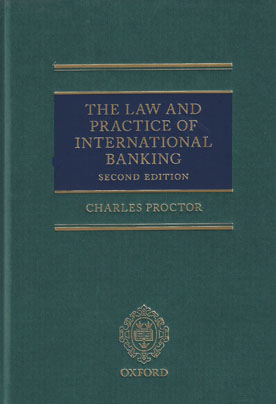 ISBN13: 9780199685585
Published: March 2015
Publisher: Oxford University Press
Country of Publication: UK
Format: Hardback
Price: £400.00

Despatched in 3 to 5 days.
The second edition of this major reference work on banking law continues to provide authoritative analysis of current practice and the law that applies to it. Known for its broad coverage including topics such as syndicated loans, security structures, derivative products and mis-selling claims, the book tackles areas which have particular relevance to current practice.
Amongst these are cross-border matters such as world-wide freezing injunctions, foreign disclosure orders, the bankers' duty of confidentiality and the impact of sanctions on banking transactions. In particular, the book provides detailed examination of various matters arising out of the Lehman collapse and the failure of the Icelandic banking system.
The second edition reviews a significant accumulation of case law in these areas. Reflecting the continued growth of the Islamic finance market, there is also a detailed section on this highly specialized but increasingly important area.
The new edition provides detailed consideration of the new UK and EU regulatory regimes, analysing the respective responsibilities of the PRA and the FCA, and the establishment of new banking authorities in the EU. A separate chapter examines the new capital adequacy and liquidity regimes that will apply to banks in the wake of Basel III. It also reflects on the impact of the crisis following on from the initial assessments made in the first edition.
The book examines extensively the new regimes for "ring-fencing" of retail banking business and for the resolution of failing banks, introduced at both the UK and EU levels. The text also includes a new chapter examining the challenges that the banking system would face in the event that a Member State elected to withdraw from the Eurozone - a fate which appeared to hang over Greece during the crisis and which could recur if the single currency zone faces renewed strains.
Written by the editor of the leading work on monetary law, Mann on the Legal Aspect of Money, 7e, this is the most comprehensive assessment of current banking practice and the law that applies to it. It is a work of great scholarship set in practical context and benefits from the consistency and rigorousness of approach that a single author can provide.
New to this edition:-
Full consideration of the impact of the Lehman litigation and the implications of the collapse of the Icelandic banking system
Detailed review of new initiatives in the areas of "ring-fencing" and the resolution of failing banks