The Privileges and Immunities of International Organizations in Domestic Courts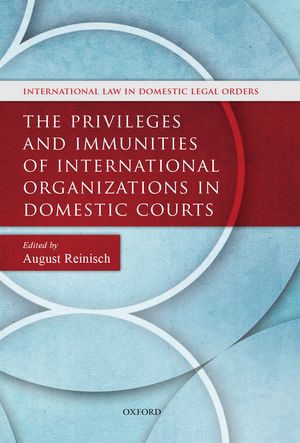 ISBN13: 9780199679409
Published: September 2013
Publisher: Oxford University Press
Country of Publication: UK
Format: Hardback
Price: £105.00

International organizations are increasingly operating across borders and engaging in legal transactions in virtually all jurisdictions. This makes, familiarity with the applicable law and practice imperative for both international organizations and those who engage in legal relations with them. Furthermore, the issue of whether, how, and to what extent domestic courts take into account decisions of foreign and international courts and tribunals in their own decision-making has become increasingly important in recent years.
This book provides a comprehensive empirical study of this transnational judicial dialogue, focusing on the law and practice of domestic jurisdictions concerning the legal personality, privileges, and immunities of international organizations. It presents a selection of detailed country-by-country studies, examining the manner of judicial dialogue across domestic jurisdictions, and between national and international courts. The approach taken in this book intersects with three highly topical areas of international legal scholarship: the rapidly evolving law of international institutions; the burgeoning research into the role of domestic courts in the international legal system; and the recent rise of empirically-oriented legal scholarship.
Utilizing OUP's International Law in Domestic Courts database, the book presents analysis of little-known cases which have real international significance, illustrating the impact and extent of transnational judicial dialogue in the international legal system. The book provides important perspectives on the evolution and status of the law of immunity of international organizations, and contributes to the understanding of relationships between national courts, and between national and international courts.