The Conflict of Laws 4th ed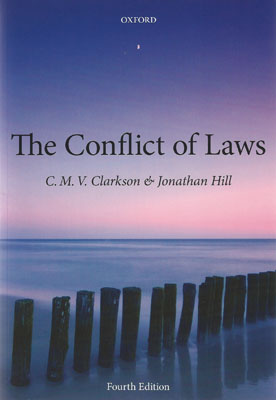 ISBN13: 9780199574711
Published: July 2011
Publisher: Oxford University Press
Country of Publication: UK
Format: Paperback
Price: Out of print

Out of Print
The fourth edition of this work provides a clear and up-to-date account of the private international law topics covered in undergraduate courses.
Theoretical issues are introduced in the first chapter and, where appropriate, considered in greater detail in later chapters. Basic principles of the conflict of laws are presented in an approachable style, offering clarity on complex points and terminology without over-simplification.
The area of conflict of laws has undergone a profound change in recent decades. Much of the subject is now dominated by legislation, both domestic and European, rather than by case law. In practical terms, issues relating to jurisdiction and the recognition and enforcement of judgments have taken centre stage and choice of law questions have become of less practical importance.
These changing emphases in private international law are fully reflected in this book. The authors provide detailed analyses of the most important commercial topics (civil jurisdiction, the recognition and enforcement of foreign judgements, and choice of law relating to contractual and non-contractual obligations) as well as the most central topics in family law (marriage, matrimonial causes and property law).