Regional Protection of Human Rights: Basic Documents 2nd ed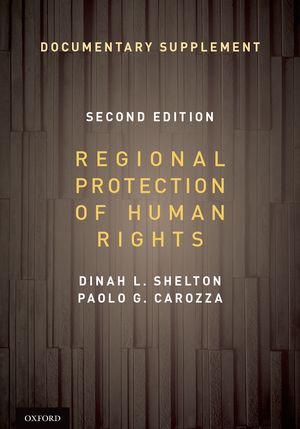 ISBN13: 9780199301621
Published: November 2013
Publisher: Oxford University Press
Country of Publication: USA
Format: Paperback
Price: £110.00

Despatched in 5 to 7 days.
What role do human rights play in the development of regional organizations? What human rights obligations do states assume upon joining regional bodies? This work is the first text of its kind devoted to the European, Inter-American and African systems for the protection of human rights.
It illustrates how international human rights law is interpreted and implemented across international organizations and offers examples of political, economic, social problems and legal issues to emphasize the significant impact of international human rights law institutions on the constitutions, law, policies, and societies of different regions.
Regional Protection of Human Rights: Basic Documents 2nd ed provides readers with access to the basic documents of each legal system and their inter-relationships, enabling readers to apply those documents to ever-changing global situations, and alerting them to the dynamic nature of regional human rights law and institutions.
The jurisprudence of the European and Inter-American Courts and decisions of the Inter-American and African Commissions are emphasized, including decisions on the interpretation and application of various human rights, procedural requirements and remedies. Prospects for regional systems in the Middle East and Asia are also discussed.
The relevant basic texts are reproduced in a documentary supplement. In addition to serving as a text for courses on human rights law, the book will be useful for courses in international law, international relations, and political science. It is also be a helpful resource for lawyers and policy-makers concerned with the protection of human rights.
The Main book is available on isbn 9780199941520. The two volume Set is available on isbn 9780199324545