Subrogation: Law and Practice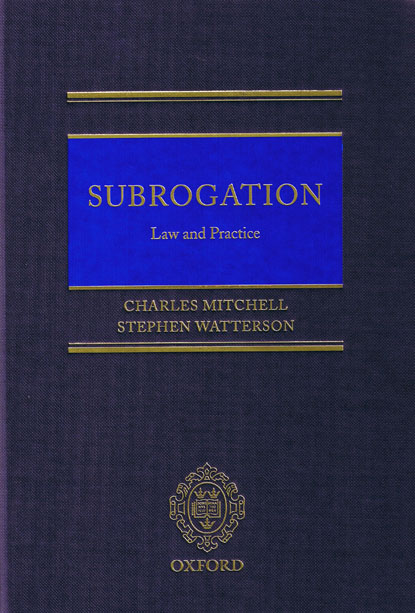 ISBN13: 9780199296644
Published: March 2007
Publisher: Oxford University Press
Country of Publication: UK
Format: Hardback
Price: £307.50

Shortlisted for the Inner Temple Book Prize 2008: Main Prize
Subrogation: Law and Practice provides a clear and accessible account of subrogation, explaining when claimants are entitled to the remedy, how they should formulate their claims, and what practical difficulties they might encounter when attempting to enforce their subrogation rights.
Although subrogation is a remedy that is frequently claimed in Chancery and commercial practice, the reasons why it is awarded and the way it works can often be misunderstood. In this text authors aim to present the subject in clear and simple terms through a structure that is readily accessible and of benefit to practitioners.
Following an introductory overview, and discussion of the rules that determine the discharge of obligations by payment, the book is divided into three parts.
Part II considers subrogation to extinguished rights, and explains all the consequences of the House of Lords' finding in Banque Financière de la Cité v Parc (Battersea) Ltd that this form of subrogation is a remedy for unjust enrichment. The discussion examines the requirements that the defendant has been enriched, and that this enrichment has been gained at the claimant's expense. It also considers the most important reasons why a court might find that a defendant's enrichment is unjust, the defences which can be raised to a claim, the form of the remedy, and additional practical issues.
Part III looks at insurers' claims to be subrogated to their insureds' subsisting rights, and carefully analyses the substantial body of case law on this subject which has built up over the past two hundred years.
Finally, Part IV concerns the special insolvency rules which entitle claimants to acquire an insolvent party's subsisting indemnity rights against a third party. The discussion takes in claims under the Third Parties (Rights against Insurers) Act 1930 and claims by the creditors of trustees to be indemnified out of the trust estate.
This work explains the underlying principles and practical operation of subrogation and is a readily accessible guide for the busy professional.