A Practical Approach to Environmental Law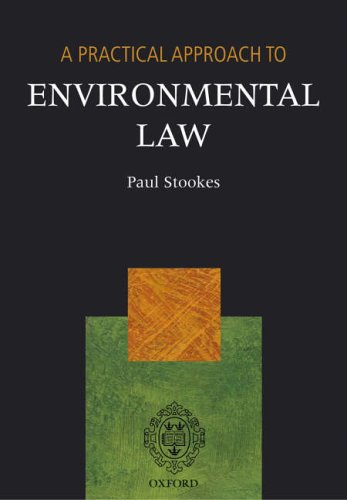 ISBN13: 9780199279210
ISBN: 0199279217
Published: November 2005
Publisher: Oxford University Press
Country of Publication: UK
Format: Paperback
Price: Out of print

A Practical Approach to Environmental Law provides comprehensive coverage of the full range of law and legislation relating to the environment, including; The Environmental Assessment of Plans and Programmes Regulations 2004; the Planning and Compulsory Purchase Act 2004; and the Environmental Information Regulations 2004, written in a clear and user-friendly style.
To ensure accessibility and ease of reference, the book is organised into three sections, focussing in turn on; the principles of environmental protection such as the polluter pays principle, the precautionary principle, and sustainable development; substantive environmental law areas (such as noise, waste and water); and practice and procedure. The practice and procedure section covers remedies available under civil law, with practical advice on case management, injunctions and compensation, and costs. It also covers criminal law offences, procedures for prosecuting, and sentencing guidelines.
Very much a practical guide, A Practical Approach to Environmental Law makes extensive use of cross-referencing, examples, checklists, case studies, and key reference documents, to assist the practitioner in quickly locating the material they need, whilst also providing valuable context for the student coming to this complex subject for the first time.