Elements of Land Law 5th ed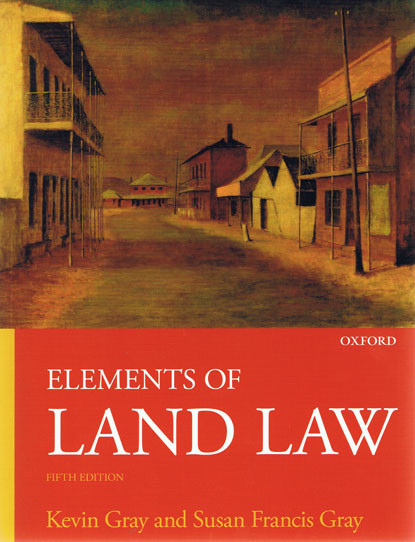 ISBN13: 9780199219728
Published: November 2008
Publisher: Oxford University Press
Country of Publication: UK
Format: Paperback
Price: £72.99

Gray & Gray's Elements of Land Law is the definitive textbook on the subject. The book offers comprehensive coverage of the law in this area. The authors provide an insightful and thought-provoking commentary on the modern development of the subject and go on to explore how land law functions in today's society. The book includes an analysis of recent legislation and case law in England and Wales.
There are also references to significant cases from Australia, New Zealand, the United States and Canada, coupled with a detailed account of reforms currently proposed by the English Law Commission. The book demonstrates a thorough understanding of the social and political context of land law and guides the reader through the sometimes difficult terminology of the subject.
This fifth edition continues to balance up-to-date coverage of the key issues in land law with a critical survey of cutting-edge research. Building on the strengths of previous editions, the book ensures that excellent scholarship is accessible to an even wider readership: more chapters of shorter length offer the possibility of readers 'dipping' into topics in a non-linear way. A fresh, new format and text design support the re-structuring of content and aid navigability. Readers wanting to explore areas of interest in more depth are encouraged to do so by the exemplary footnoting and referencing.
New to this edition:-
Coverage of the topics now more obviously reflects how land law is taught. For example, leases, mortgages and easements have been brought closer together in a more obvious and traditional grouping
Material on trespass, licence and privacy has been compressed into a single chapter
Areas of repetition have been addressed so that the overall extent is reduced to a more manageable size
A user-friendly text design ensures that the excellent scholarship is more accessible to a broader readership
A re-structuring of the material into more chapters of shorter length helps students locate themselves within the subject and navigate the book