Criminal Law 16th ed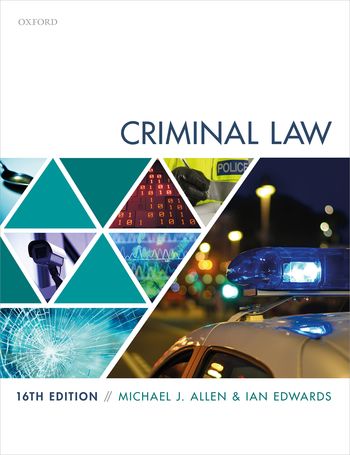 ISBN13: 9780198869931
Published: April 2021
Publisher: Oxford University Press
Country of Publication: UK
Format: Paperback
Price: £39.99

Criminal Law, now in its sixteenth edition, has been providing students with a readable and reliable introduction to this fascinating subject for over twenty-five years. This thorough text enables readers to feel confident in their knowledge of the law, while its concise approach ensures that they are not overwhelmed.
The expanded contextual coverage brings the subject to life whilst the thought-provoking commentary on judicial and legal decisions means that the text is fascinating and entertaining as well as accurate.
A range of helpful features are included, including end-of-chapter 'law in context' features, highlighted case fact summaries, questions, examples, and key points, ensuring that the information provided is broken down and easy to comprehend. Further reading sections provide students with a carefully selected starting point for further research.
In short, any student studying criminal law for the first time should not be without this book.
New to this edition
Revised and updated Law in Context features, including discussions on Covid-19 and the criminal law, defences available to those that murder an abusive partner, and on the definition of hate crimes
A new section on the Modern Slavery Act 2015
Analysis of the latest case law developments and legislation, including Barton & Booth [2020], Lawrence [2020], R. (on the application of Mohamed) v Waltham Forest LBC [2020], Foy [2020], Smith (Andrew) [2020], and the Sentencing Act 2020