Blackstone's Civil Practice 2019 (Book and eBook Pack)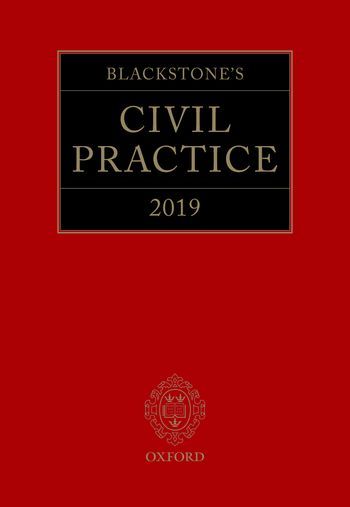 ISBN13: 9780198829409
Published: January 2019
Publisher: Oxford University Press
Country of Publication: UK
Format: Hardback & eBook
Price: Out of print

Blackstone's Civil Practice 2019 provides detailed commentary of unrivalled quality on the process of civil litigation. This acclaimed civil work expertly adopts an incomparable narrative approach based on the chronology of a claim. Written by a team of leading academics and experienced practitioners, it provides authoritative analysis on the process of civil litigation from commencement of a claim to enforcement of judgments, addressing civil procedure in the county courts, the High Court, the Court of Appeal, and the Supreme Court. The book also considers specialist matters such as insolvency proceedings, sale of goods, and human rights, providing skilled analysis on a comprehensive level.
The expert commentary is combined with the text of the Civil Procedure Rules (CPR), Practice Directions (PD), and Pre-Action Protocols and Procedural Checklists, all fully cross-referenced to the text to ensure ease of use for the busy practitioner. As well as a detailed and user-friendly index, the quick-reference guide inside the front cover provides an alternative point of access for those already familiar with the CPR.
Blackstone's Civil Practice 2019 (Book and eBook Pack) includes a digital version available on PC, Mac, Android devices, iPad or iPhone to ensure that you have access to the latest developments in civil procedure wherever you are.