Mayson, French & Ryan on Company Law 2018-2019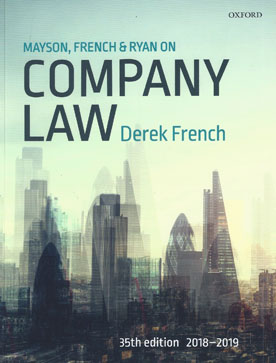 ISBN13: 9780198815105
Published: August 2018
Publisher: Oxford University Press
Country of Publication: UK
Format: Paperback
Price: Out of print

Mayson, French & Ryan on Company Law is the ideal companion for students looking for an up-to-date, straightforward, and accessible account of company law. This 35th edition has undergone a major revision including streamlining of content throughout, the addition of student-friendly features and a new, modern text design.
The content has been thoroughly updated and revised to focus on the key aspects of company law, with the chapters on Transparency, Accounts, and Marketable loans being moved online.
New chapter introductions and summaries outline topics in student-friendly terms, leaving readers with a clear and complete understanding of each area of law.
End-of-chapter 'legal concepts' and 'points of law' features revisit the main discussions of each chapter in a simple bullet-point format, ideal for consolidating and revising content, whilst annotated further reading sections advise students on relevant books, journals and websites to consult to deepen their knowledge.
This edition features a new, two-colour text design and includes more headings throughout to make the text clear and easy to navigate for students.
Online resources
This book is accompanied by online resources which include:
updates on recent developments in company law
three chapters previously found in the book- Transparency, Accounts, and Marketable loans
a new bonus chapter on Legal forms for businesses.