Carriage of Goods by Sea 3rd ed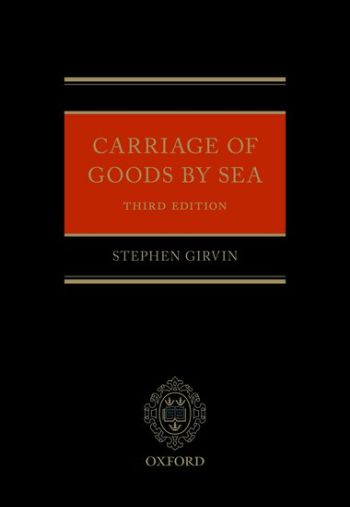 ISBN13: 9780198811947
Published: March 2022
Publisher: Oxford University Press
Country of Publication: UK
Format: Hardback
Price: £250.00

Carriage of Goods by Sea provides an extensive comparative analysis of the carriage of goods by sea, examining the principles, regulation, responsibilities, obligations, and immunities within this area of English law, and other common law jurisdictions, in a single volume.
The book covers all necessary aspects for understanding the law of carriage by sea. These include: an essential overview of the business of shipping; a core group of chapters on the various functions of bills of lading and other documents of carriage; the international and domestic regulation of carriage; analysis of the major conventions (the Hague, Hague-Visby and Hamburg Rules, and the Rotterdam Rules); and explanation of the shippers' responsibilities, both at common law and under the international conventions. Later chapters are concerned with the obligations of the carrier, and the rights and immunities of the carrier, again at common law, and under the international conventions. The book concludes by examining charterparties, as well as including chapters on frustration and damages.
The third edition provides a thorough update from the publication of the previous edition in 2011 including new bills of lading, major Commonwealth developments impacting on the law in this field, and UK Supreme Court decisions such as Volcafe Ltd v Compania Sud Americana de Vapores SA (Trading as CSAV) [2018] UKSC 61, The Ocean Victory [2017] UKSC 35, and The Kos [2012] UKSC 17. The new edition also includes a new chapter relating to damages.