The Law and Practice of International Commissions of Inquiry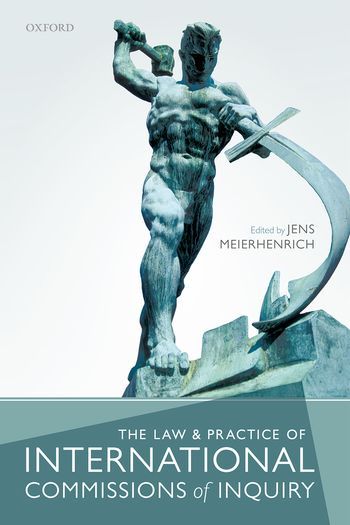 ISBN13: 9780198743262
To be Published: June 2024
Publisher: Oxford University Press
Country of Publication: UK
Format: Hardback
Price: £95.00

Jens Meierhenrich examines one of the most frequently used-but least understood-forms of humanitarian intervention: international commissions of inquiry (ICOIs). The international community is increasingly dispatching these investigative bodies to conflict zones in an effort to respond to atrocities from civil war to genocide. More than thirty such bodies have been deployed since the end of the Cold War. Because military interventions to save distant strangers are inherently difficult to mount, this volume finds that legal interventionism is supplanting military interventionism on the international stage.
Commonly thought of as fact-finding mechanisms aimed at investigating serious violations of international humanitarian law and human rights law, international commissions of inquiry are created to establish 'atrocity facts'. They address highly policy-relevant questions: Who is killing whom, and why? Who are the perpetrators? What international crimes, if any, have been committed? Does conflict resolution demand diplomacy, or is coercive force required? International commissions of inquiry are essential for classifying atrocities, attributing responsibility, and recommending further action.
This pioneering collection brings together experts in their field to critically assess international fact-finding, from the UN Commission of Experts on the former Yugoslavia, to the controversial UN Fact-Finding Mission on the Gaza Conflict, as well as the Commission of Inquiry on Human Rights in the Democratic People's Republic of Korea. Essential for scholars and practitioners alike, this highly innovative volume sheds light on the politics, power, and pathologies of this newest interventionism.