The Protection of Civilians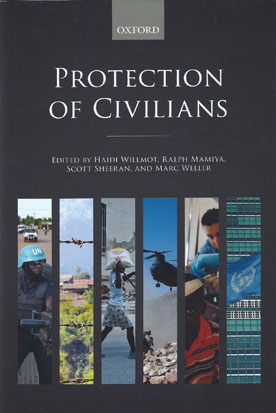 ISBN13: 9780198729266
Published: April 2016
Publisher: Oxford University Press
Country of Publication: UK
Format: Hardback
Price: £105.00

Despatched in 5 to 7 days.
The protection of civilians is a highly topical issue at the forefront of international discourse, and has taken a prominent role in many international deployments.
It has been at the centre of debates on the NATO intervention in Libya, UN deployments in Darfur, South Sudan, and the Democratic Republic of the Congo, and on the failures of the international community in Sri Lanka and Syria.
Variously described as a moral responsibility, a legal obligation, a mandated peacekeeping task, and the culmination of humanitarian activity, it has become a high-profile concern of governments, international organisations, and civil society, and a central issue in international peace and security.
This book offers a multidisciplinary treatment of this important topic, harnessing perspectives from international law and international relations, traversing academia and practice. Moving from the historical and philosophical development of the civilian protection concept, through relevant bodies of international law and normative underpinnings, and on to politics and practice, the volume presents coherent cross-cutting analysis of the realities of conflict and diplomacy.
In doing so, it engages a series of current debates, including on the role of politics in what has often been characterized as a humanitarian endeavour, and the challenges and impacts of the use of force.
The work brings together a wide array of eminent academics and respected practitioners, incorporating contributions from legal scholars and ethicists, political commentators, diplomats, UN officials, military commanders, development experts and humanitarian aid workers. As the most comprehensive publication on the subject, this will be a first port of call for anyone studing or working towards a better protection of civilians in conflict.