Trade Mark Law in Europe 3rd ed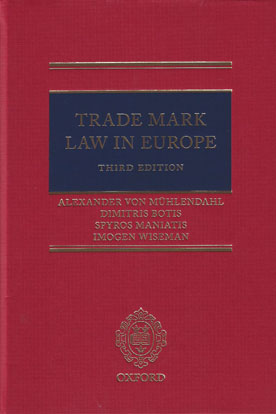 ISBN13: 9780198726050
Published: March 2016
Publisher: Oxford University Press
Country of Publication: UK
Format: Hardback
Price: £222.50

In light of the ever-growing and developing jurisprudence of the Court of Justice and the General Court, and forthcoming substantive and systemic changes to the law, there is a need for a fresh and practical approach to the procedure and case law of trade marks in Europe.
Trade Marks in Europe is a comprehensive guide to European trade mark law following the jurisprudence of the Court of Justice of the European Union and the case law of the General Court. It provides a wide-ranging overview of the trade mark system, including detailed and critical discussion of forthcoming changes, as well as an in-depth look at the life of a trade mark up to enforcement.
It considers the conditions for maintaining a registration, the protection and enforcement of trade marks, and the interface between trade mark law and other areas of practice. Finally, it offers detailed and insightful analysis of current developments, challenges, and opportunities. This is complemented by an international and comparative approach which selectively considers the contemporary jurisprudence of the Supreme Court of the United States and general US practice, as well as national jurisprudence in areas not yet covered by the CJEU.
Written by highly-regarded authors with considerable expertise across a range of constituencies, Trade Marks in Europe is a timely and important study of this complex and challenging area of law.