Blackstone's Employment Tribunal Handbook 2014-2015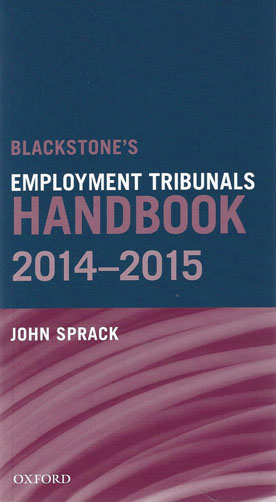 ISBN13: 9780198719427
Published: October 2014
Publisher: Oxford University Press
Country of Publication: UK
Format: Pocketbook
Price: £43.99

Covering all the key aspects of Employment Tribunal practice, this book focuses on the procedure from the point when the claim is presented, through the initial procedural steps up to and including the hearing and the consideration of reviews and appeals.
It deals concisely and authoritatively with the substantive law relating to unfair dismissal, discrimination, and the other main claims which can be made within the jurisdiction of the Employment Tribunals. There is substantial emphasis upon remedies and compensation featuring a draft Schedule of Loss with accompanying commentary to assist when presenting or defending a claim.
Blackstone's Employment Tribunals Handbook's easy-to-use pocket-sized format facilitates quick reading and instant decision-making. Tables, flow-charts, and a clear and accessible style aid comprehension and speedy navigation. Cross-referencing to Blackstone's Employment Law Practice 2014 provides readers with easy access to in-depth commentary.