The Responsibility to Prevent: Overcoming the Challenges of Atrocity Prevention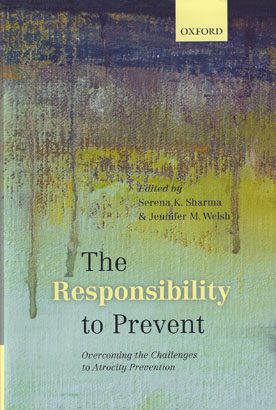 ISBN13: 9780198717782
Published: August 2015
Publisher: Oxford University Press
Country of Publication: UK
Format: Hardback
Price: £84.00

Despatched in 5 to 7 days.
Among the constitutive elements of the responsibility to protect (R2P), prevention has been deemed by many as the most important.
Drawing on contributions from an international group of academics and practitioners, this book seeks to improve our knowledge of how to operationalize the responsibility to prevent genocide, crimes against humanity, war crimes, and ethnic cleansing. The central argument is that the responsibility to prevent should be conceptualized as crimes prevention.
The first part of the volume develops a strategic framework, which includes identifying the appropriate scope and substance of R2Ps preventive dimension and distinguishing between systemic and targeted approaches. The second section examines some of the tools that can be used, and have been used, to prevent the escalation of dynamics towards the commission of atrocity crimes (tools such as sanctions, mediation, international criminal justice, and the use of military means), as well as the operational challenges that tend to obstruct global efforts to prevent such crimes.
The third and final section draws lessons from actual cases of preventive action, both historical and recent, about the relative success of particular tools and approaches. As the first edited collection of its kind, devoted exclusively to the preventive dimension of R2P, The Responsibility to Prevent intends to inform and shape the growing debate on how to approach atrocity crime prevention and how to build the capacities needed to implement the imperatives at the heart of R2P.