The Settlement of Disputes in International Law: Institutions and Procedures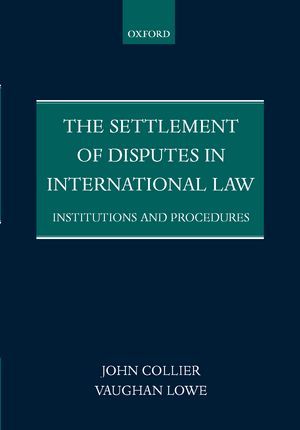 ISBN13: 9780198299271
ISBN: 0198299273
Published: July 2000
Publisher: Oxford University Press
Country of Publication: UK
Format: Paperback
Price: £81.00

Despatched in 3 to 5 days.
For many years it was said that the weakness of international law was the lack of a system for the enforcement of legal obligations. Commentators pointed to the paucity of cases in the International Court and the unwillingness of States to undertake binding obligations to settle their disputes. This position has now changed beyond recognition.
The number of international tribunals has increased and many of them, such as ICSID and the International Court of Justice, are busier than at any time in their history. Increasingly, the classical procedures of diplomatic protection are circumvented as corporations and individuals litigate in their own right against States in international tribunals.
This book surveys the range of procedures for the settlement of international disputes, whether the disputes arise between States or between States and corporations or individuals. The first part of the book examines non-judicial procedures such as negotiation, mediation, fact-finding, as well as judicial procedures. Among the tribunals covered are ICSID, the UNCC and the Iran-US Claim Tribunal, the WTO disputes panels, ad-hoc inter-State and international commercial arbitral tribunals and the International Court of Justice.
In the second part of the book the emerging principles of procedural law applied in these tribunals are discussed. Here the authors go through the entire settlement process from the agreement to submit to a settlement procedure and the constitution of the tribunal, through to the determination of the law applicable to the merits and to the procedure of the tribunal, to the review, and ultimately the recognition and enforcement of tribunal awards.