Regulating Big Tech: Policy Responses to Digital Dominance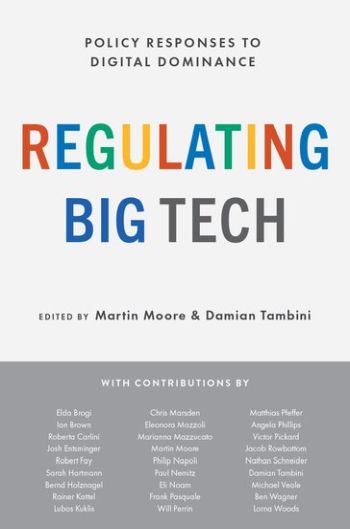 ISBN13: 9780197616109
To be Published: November 2021
Publisher: Oxford University Press
Country of Publication: UK
Format: Paperback
Price: £19.99

Since Digital Dominance was published in 2018, a global consensus has emerged that technology platforms should be regulated. Governments from the United States to Australia have sought to reduce the power of these platforms and curtail the dominance of a few, yet regulatory responses remain fragmented, with some focused solely on competition while others seek to address issues around harm, privacy, and freedom of expression.
Regulating Big Tech condenses the vibrant tech policy debate into a toolkit for the policy maker, legal expert, and academic seeking to address one of the key issues facing democracies today: platform dominance and its impact on society. Contributors explore elements of the toolkit through comprehensive coverage of existing and future policy on data, antitrust, competition, freedom of expression, jurisdiction, fake news, elections, liability, and accountability, while also identifying potential policy impacts on global communication, user rights, public welfare, and economic activity.
With original chapters from leading academics and policy experts, Regulating Big Tech sets out a policy framework that can address interlocking challenges of contemporary tech regulation and offer actionable solutions for our technological future.