A Neofederalist Vision of TRIPS: The Resilience of the International Intellectual Property Regime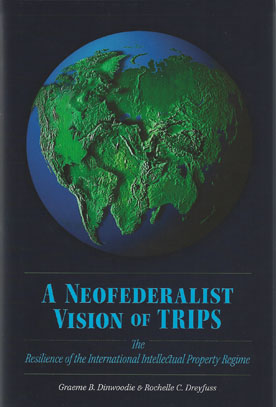 ISBN13: 9780195304619
Published: May 2012
Publisher: Oxford University Press USA
Country of Publication: USA
Format: Hardback
Price: £87.00

Despatched in 6 to 8 days.
The TRIPS Agreement (Agreement on Trade-Related Aspects of Intellectual Property Rights), signed on April 15, 1994, introduced intellectual property protection into the World Trade Organization's multilateral trading system for the first time, and it remains the most comprehensive international agreement on intellectual property to date.
A Neofederalist Vision of TRIPS by Graeme B. Dinwoodie and Rochelle C. Dreyfuss examines its interpretation, its impact on the creative environment, and its effect on national and international lawmaking. It propounds a vision of TRIPS as creating a neofederalist regime, one that will ensure the resilience of the international intellectual property system in time of rapid change.
In this vision, WTO members retain considerable flexibility to tailor intellectual property law to their national priorities and to experiment with changes necessary to meet new technological and social challenges, but agree to operate within an international framework.
This framework, while less powerful than the central administration of a federal government, comprises a series of substantive and procedural commitments that promote the coordination of both the present intellectual property system as well as future international intellectual property lawmaking.
Part I demonstrates the centrality of state autonomy throughout the history of international negotiations over intellectual property. Part II, which looks at the present, analyzes the decisions of the WTO in intellectual property cases. It concludes that the WTO has been inattentive to the benefits of promoting cultural diversity, the values inherent in intellectual property, the rich fabric of its law and lore, the necessary balance between producers and users of knowledge goods, and the relationship between the law and the technological environment in which it must operate. Looking to the future.
Part III develops a framework for integrating the increasingly fragmented international system and proposes the recognition of an international intellectual property acquis, a set of longstanding principles that have informed, and should continue to inform intellectual property lawmaking.
The acquis would include both express and latent components of the international regime, put access-regarding guarantees such as user rights on a par with proprietary interests and enshrine the fundamental importance of national autonomy in the international system.