Millington and Sutherland Williams on The Proceeds of Crime 6th ed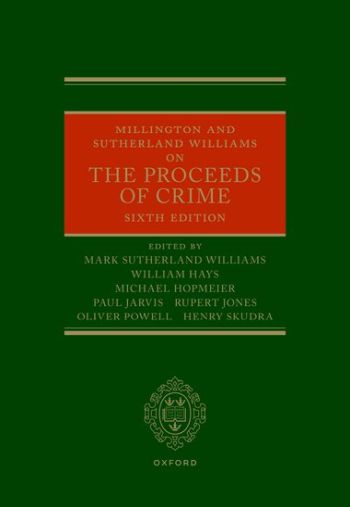 ISBN13: 9780192868008
Published: May 2023
Publisher: Oxford University Press
Country of Publication: UK
Format: Hardback
Price: £240.00

The proceeds of crime field continues to be one of the fastest moving areas of the law within the criminal justice system. New cases are reported on a weekly, sometimes daily, basis as well as frequently in the major law reports. Millington and Sutherland on the Proceeds of Crime offers an extensive, authorative examination of proceeds of crime and confiscation legislation. It provides an easily navigable step-by-step approach that considers how the legislation is geared to ensuring that criminals do not benefit from their crimes financially, as well as detailed coverage of every stage of the confiscation process.
The newest edition has been fully updated to include all important legislative changes since the publication of the fifth edition. A chapter dedicated to sanctions has been added, the impact of crypto currencies is examined, analysis is provided of Law Commission reports on Supicious Activity Reports and the Proceeds of Crime Act (POCA), and there is a new chapter focusing on part six of POCA.
Previous editions have been recognised by governments, both national and international, for their focus on the importance of asset recovery as a vital weapon in the fight against organised crime and corruption. Millington and Sutherland Williams on The Proceeds of Crime is used in the Academy of European Law (ERA) as well as the libraries of the Chief Justices of Jamaica, Barbados, and Papua New Guinea. The book serves as an international guide, assisting barristers, solicitors, practitioners, and academics in navigating this often-complex area of the law.