The Transformation of Human Rights Fact-Finding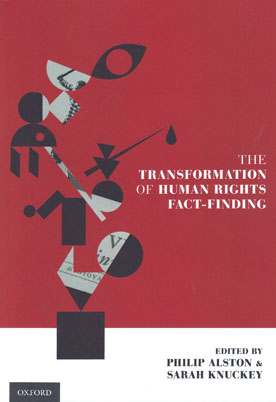 ISBN13: 9780190239497
Published: January 2016
Publisher: Oxford University Press USA
Country of Publication: USA
Format: Paperback
Price: £76.00

Despatched in 7 to 9 days.
Fact-finding is at the heart of human rights advocacy, and is often at the center of international controversies about alleged government abuses.
In recent years, human rights fact-finding has greatly proliferated and become more sophisticated and complex, while also being subjected to stronger scrutiny from governments. Nevertheless, despite the prominence of fact-finding, it remains strikingly under-studied and under-theorized. Too little has been done to bring forth the assumptions, methodologies, and techniques of this rapidly developing field, or to open human rights fact-finding to critical and constructive scrutiny.
The Transformation of Human Rights Fact-Finding offers a multidisciplinary approach to the study of fact-finding with rigorous and critical analysis of the field of practice, while providing a range of accounts of what actually happens.
It deepens the study and practice of human rights investigations, and fosters fact-finding as a discretely studied topic, while mapping crucial transformations in the field. The contributions to this book are the result of a major international conference organized by New York University Law School's Center for Human Rights and Global Justice. Engaging the expertise and experience of the editors and contributing authors, it offers a broad approach encompassing contemporary issues and analysis across the human rights spectrum in law, international relations, and critical theory.
This book addresses the major areas of human rights fact-finding such as victim and witness issues; fact-finding for advocacy, enforcement, and litigation; the role of interdisciplinary expertise and methodologies; crowd sourcing, social media, and big data; and international guidelines for fact-finding.