Sallon: The Right Hon Lord Elwyn-Jones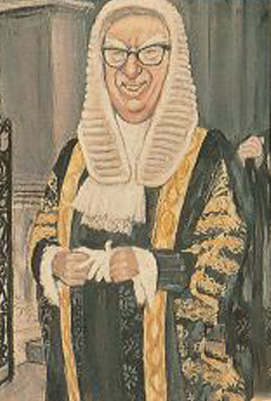 ISSN: 4469-4469
Published: December 1988
Publisher: Butterworth & Co
Country of Publication: UK
Format: Unframed Print
Price: Out of print

Out of Print
The print is 20 x 14.5 inches including the border (not shown)
Ralph Sallon was, in the words of Lord Hailsham of St Marylebone, speaking at a reception after Sallon had been appointed MBE in 1977, "the doyen of caricaturists today".
He was also, by his remarkable longevity, the last link with the great cartoonists of the 19th century: Phil May, Sir John Tenniel, "Spy" (Sir Leslie Ward) and Max Beerbohm were all still alive at his birth, Queen Victoria was on the throne and, had he lived until the New Year, Sallon would have seen out three centuries as well as two world wars and 21 prime ministers.
In 1948 he was taken on as staff caricaturist on the Daily Mirror, working with the journalist Bill Connor (Cassandra) and the political cartoonists Zec, Vicky (from 1954), Franklin (from 1959), Keith Waite (from 1969) and later Trog (Wally Fawkes). Admired by his colleagues (Stanley Franklin called him "one of the greatest caricaturists of all time"), he continued to draw for the paper for more than 40 years, eventually retiring in 1991 after being involved in a road accident.
Though he often used photographs, Sallon preferred to work from life and drew in both colour and black-and-white with a pencil, pen and brush. As well as his newspaper contributions, he also worked in advertising for the GPO and others, produced anniversary books of caricatures of auto and motorcycle racing personalities for Shell-Mex/BP and two series of Vanity Fair-style full-colour caricature prints of eminent lawyers (1963-4) and Lord Chancellors (1988) for Butterworth & Co.
Number 5 in a Series of 5 Lord Chancellors