The Life of Lord Carson in 3 Volumes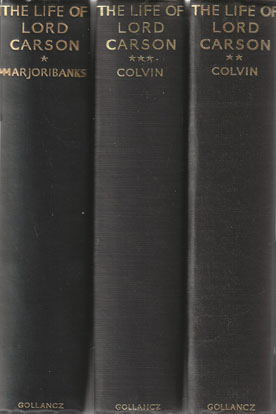 ISBN13: 004373
ISBN: 004373
Published: August 1936
Publisher: Victor Gollancz Ltd
Country of Publication: UK
Format: Hardback
Price: Out of print

Out of Print
Edward Marjoribanks was born in 1900 and educated at Eton and Christ Church, Oxford. He left Oxford, where he was President of the Union, in 1922 with first class honours in Literae Humaniores, and was called to the Bar in 1924.
From 1929 until his early death in 1932 he was 'a Member of Parliament for the Eastbourne Division of East Sussex. A friend and colleague of the great advocate Edward Marshall Hall, he had access to a great deal of unpublished material For his Life of Sir Edward Marshall Hall which was first published in 1929.
He died in office on 2 April 1932, committing suicide by shooting himself in the chest whilst in the billiard room of Lord Halisham's (his stepfather) house in Sussex. He had been jilted for a second time. Marjoribanks had just completed the first volume of a planned three-volume account of the Life of Lord Carson, his last chapter being the George Archer-Shee case which ended Volume One. The final two volumes were completed by Ian Colvin.
Publishing History:-
Volume One: Edward Marjoribanks, 1932. Victor Gollancz Ltd
Volume Two: Ian Colvin, 1934. Victor Gollancz Ltd
Volume Three: Ian Colvin, 1936: Victor Gollancz Ltd

This is the story of the life of Sir Edward Carson with a strong emphasis on his career as an advocate. Carson became a wellknown Irish QC before moving from Dublin to London as MP for Trinity College, and continued his legal career in London, where he soon became an English QC, the rising star in the legal firmament, and the acknowledged leader of the London Bar.

Carson is well known for his defence of the Marquess of Queensbury in the Oscar Wilde trial, one of the most famous and tragic cases ever tried in the English Courts. The author gives an eloquent, poignant and riveting account of Carson's cross-examination of Wilde – a legendary contest between these two famous Irishmen who had been fellow-students at Trinity.