Extradition Law: A Practitioner's Guide 2nd ed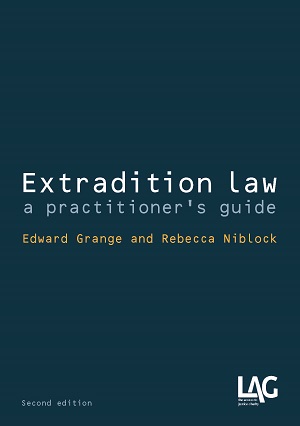 ISBN13: 9781908407603
Published: August 2015
Publisher: Legal Action Group
Country of Publication: UK
Format: Paperback
Price: Out of print

The Extradition Act 2003 is a complex piece of legislation and the law is constantly evolving. Important decisions need to be made at the first hearing and while those with a background in criminal law will be familiar with some of the concepts, extradition law is a niche area which requires practitioners to have knowledge and understanding of the developing case law along with the distinct procedure and terminology used within extradition proceedings.
Extradition law: a practitioner's guide provides a highly practical guide to extradition law for those representing requested persons. It is written with the duty solicitor in mind, but is essential reading for all solicitors and barristers acting in extradition proceedings, from the magistrates' court to the High Court.
Since the first edition of this book was published the Extradition Act 2003 has been substantially amended by the Crime and Courts Act 2013 and the Anti-social Behaviour, Crime and Policing Act 2014. Both a forum bar and proportionality bar have been introduced. Following the recommendation in the Sir Scott Baker review on extradition, a leave to appeal stage was finally brought into force. This book covers all of these amendments and more.
Contents include:
Practical considerations
Looking at the European Arrest Warrant
Attending the client
Bars to extradition
Human rights
The initial hearing in EAW cases
Extradition requests from outside the European Union
Preparing for the contested hearing
The contested extradition hearing
Appeals
Ancillary matters
The authors have extensive experience of defending individuals in extradition hearings and appeals.
Extradition law: A Practitioner's Guide
balances a clear and thorough explanation of the law with practical tips on representing the client and preparing the case.