Disability Rights Handbook April 2018 - April 2019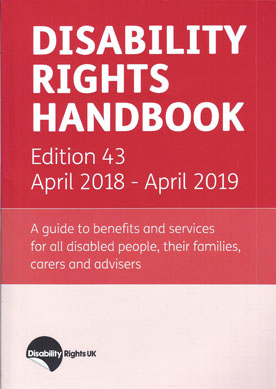 ISBN13: 9781903335789
Published: May 2018
Publisher: Disability Rights UK
Country of Publication: UK
Format: Paperback, A4
Price: Out of print

The handbook provides in-depth, comprehensive guidance on the benefits system, explains how social care operates around the UK and includes information about other services and resources for disabled people.
Fully updated for 2018/19 it includes:-
Benefits for people living with health conditions, injury or disability and for carers, children and young people
How the system works, how to claim and how to challenge a decision
Support for people in education or work, not in work, looking for work or in retirement
Getting and paying for care and support services
The rules change every year; in this period of continued welfare reform and benefit cuts, keeping up with the changes is critical.
About the publication:-
Written by benefits specialists, it's the only user-friendly guide designed to provide answers for both claimants and advisers. It delivers complex information in clear, straightforward plain-English.
What's new this year?:-
As Universal Credit is extended across the country the way it operates is constantly being changed, as are the rules which govern it. Case law continues to have an impact on the way the law is applied, particularly with more recent benefits such as Personal Independence Payment.
The financial help towards mortgage costs and home improvements (currently provided directly through several means-tested benefits) is being replaced by a loans scheme, which will now have to be paid back.