SRA Handbook: November 2016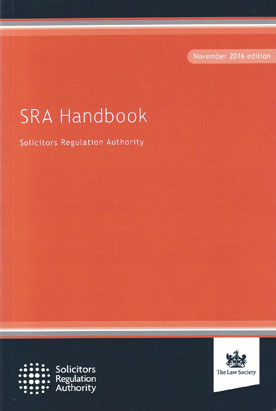 ISBN13: 9781784460754
Published: November 2016
Publisher: Law Society Publishing
Country of Publication: UK
Format: Paperback
Price: Out of print

Every solicitor in England and Wales needs to keep up-to-date with the rules governing their conduct and the responsibilities and obligations that the SRA imposes on them.
The SRA Handbook sets out the standards and requirements the SRA expects solicitors to achieve and observe for the benefit of the clients they serve.
Understand the latest changes and obligations with this new edition, updated to Version 18 (1 November 2016).
Key changes to this edition include:-
a body's application for authorisation will no longer need to include a statement of the reserved legal activities that the body intends to carry on
the SRA may grant an application for authorisation in relation to one or more reserved activity
the SRA will no longer have the power to revoke or suspend authorisation of a body which has ceased to carry on the reserved legal activities for which it was authorised
the transitional arrangements for the purposes of regulating consumer credit activities have ended and the Handbook now provides for firms authorised by the SRA to carry out some consumer credit activities under SRA regulation, where the activities are central to the delivery of legal services
the Insurance Act 2015 came into force in August 2016 and makes changes to the law on non-disclosure and misrepresentation in relation to non-consumer contracts, including solicitors' professional indemnity insurance
the SRA Training Regulations 2011 Part 3 (CPD Regulations) have been repealed, requiring a new approach to continuing competence that is mandatory for all solicitors from 1 November 2016.
Conveniently containing the updated Code and the Accounts Rules in one place, this handbook is essential to the work of all solicitors in England and Wales.