Occupiers, Highways and Defective Premises Claims: A Practical Guide Post-Jackson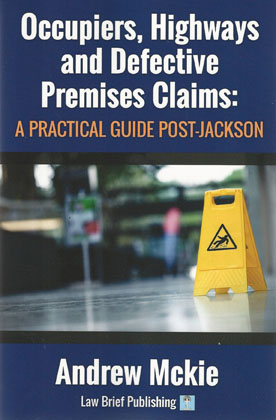 ISBN13: 9780957553064
Published: June 2014
Publisher: Law Brief Publishing
Country of Publication: UK
Format: Paperback
Price: Out of print

A practical guide to running highways, occupiers and defective premises claims in an economical and efficient way, post-Jackson and in fixed costs. The book covers issues in relation to Occupiers Liability cases (1957 and 1984), Highways cases (1980), Defective Premises (1972) and nuisance, and in particular focuses on the day to day issues in practice that one encounters with such cases.
Includes spotting the 'winners' and 'losers' quickly and efficiently, practical tips for investigation, litigation tactics, as well as a summary of the law, the important cases in relation to highways, occupiers, nuisance and defective premises claims, the public liability low value portals and how to run these claims efficiently in fixed recoverable costs.
Andrew Mckie, Barrister at Clerksroom Manchester, is a specialist in claimant and defendant personal injury, with a particular interest in cases involving alleged fraud, credit hire, highways, occupiers and defective premises cases. He was previously Head of Litigation and In-House Solicitor Advocate at a claimant personal injury firm with over 50 staff.