Harney Westwood & Riegels: British Virgin Islands Commercial Law 3rd ed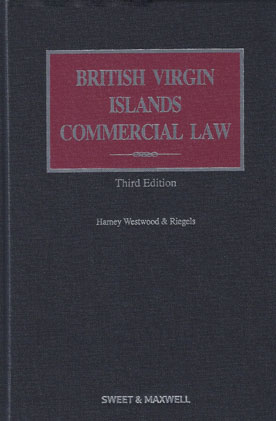 ISBN13: 9789626615294
Published: February 2015
Publisher: Sweet & Maxwell Hong Kong
Country of Publication: Hong Kong
Format: Hardback
Price: Out of print

British Virgin Islands Commercial Law is the only publication that focuses exclusively on the British Virgin Islands. The book provides a deep analytical view of the offshore jurisdiction's legal landscape as it relates to companies, partnerships, credit and security, mutual funds, insolvency, dispute resolution, taxation, trusts and more.
The third edition will keep you fully up-to-date on one of the world's fastest developing jurisdictions. This new edition continues to follow and update the major changes which occurred as a result of the BVI Business Companies (Amendment) Act 2012 and the accompanying BVI Business Companies Regulations 2012. The examination of these major changes and incorporation of new legal developments makes the third edition a must-have for anyone with interests in BVI law and practice.
Written by practitioners who know the jurisdiction better than any other
Harney Westwood & Riegels is the leading international offshore law firm in the British Virgin Islands
Incorporates major developments in 2014 including:


Application and review of the new Arbitration Act 2013
Review of new BVI case law including key decisions such as Alfa v Cukurova (Privy Council); Somers Dublin v Monarch Pointe (Court of Appeal); Ciban Management Corp v Citco (Commercial Court); and In The Matter of C (a bankrupt) (Commercial Court)
Analysis and review of the new multi-lateral tax initiatives including US FATCA regulations and revised bilateral tax information exchange agreements
Amendments to the approved manager regime for investment funds
Reviewing the changes in relation to the powers of private trust companies to act as trustees of VISTA trusts
Duty of confidentiality under BVI law NEW!
Anti-Money Laundering regulations under BVI law NEW!