Investment Treaty Arbitration and International Law Volume 4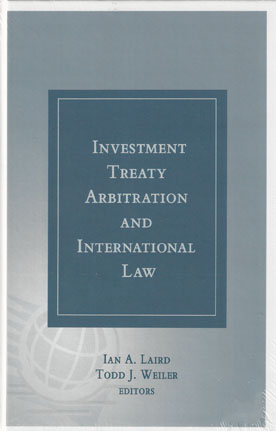 ISBN13: 9781933833880
Published: March 2012
Publisher: Juris Publishing
Country of Publication: USA
Format: Hardcover
Price: £115.00

Despatched in 12 to 14 days.
This new volume contains the papers and proceedings of Juris Conferences' fourth annual conference on Investment Arbitration.
The fourth annual conference continued the tradition of focusing on four topical and pressing issues – by establishing a dialogue between some of the brightest new stars in the field and some of its most seasoned practitioners. Eight up-and-comers prepared papers on four of the most controversial and important issues in international investment law today.
These young authors paired up to defend their positions before a panel of arbitrators, arbitration specialists and experts in international investment law. The discussion and debate that followed is certain to be of tremendous value to the international business lawyer, litigation specialist or trade and investment law policy expert.
The Asia Pacific region has proven to be a global economic powerhouse, but more and more focused on stability and rule of law. The increasing interest in countries such as China and India in the negotiation of free trade agreements and international investment agreements (IIAs) is proof of that trend. International arbitration under IIA dispute resolution provisions is only in its first stages of development in the region with an enormous potential for future growth.
The topic for the Fourth Annual Investment Treaty Arbitration conference upon which this book is based was "Investment Arbitration in the Asia-Pacific Region". It addresses some of the cutting edge issues in investment arbitration and the development of IIAs.