Law in Northern Ireland 2nd ed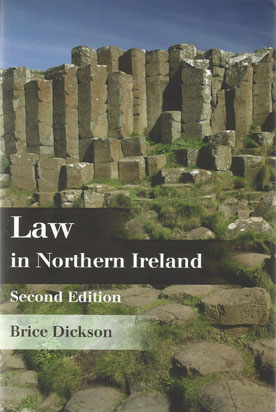 ISBN13: 9781849464598
Published: August 2013
Publisher: Hart Publishing
Country of Publication: Ireland
Format: Paperback
Price: Out of print

This is the latest edition of a book which is the standard introductory text for newcomers to the legal system of Northern Ireland.
After explaining how law-making has evolved in Northern Ireland, particularly since the partition of Ireland in 1921, the book devotes separate chapters to the current constitutional position of Northern Ireland, to the making of legislation and case law for that jurisdiction, and to the influence of EU and European Convention law.
It then examines the principles of public law applying in Northern Ireland and outlines the role of some of the public authorities there. It next moves to chapters on criminal law and criminal procedure, followed by chapters on private law and civil procedure. It ends by examining the legal professions, legal education, the legal aid regimes and legal costs.
There are also appendices with sample sources of law. Throughout the book, the focus is on conveying in comprehensible terms the essential features of this small, but historically very controversial, legal jurisdiction.
Previously The Legal System of Northern Ireland.