Maritime Labour Convention 2006 - UK and REG Implementation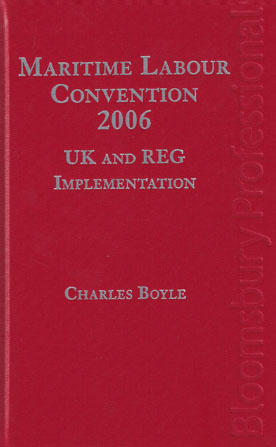 ISBN13: 9781526505378
Published: December 2018
Publisher: Bloomsbury Professional
Country of Publication: UK
Format: Hardback
Price: £110.00

The Maritime Labour Convention ('MLC') is a Convention between the International Labour Organization ('ILO') and the various ratifying countries.
The MLC does not apply directly on ships or to seafarers: its application is filtered down through the domestic laws and other implementing provisions of ratifying states. It is those domestic laws (and other measures) which put legally binding obligations on shipowners (and masters and senior officers) and which provide seafarers with their rights and remedies.
In other words, if a shipowner wants to know how to comply with the MLC on a UK ship, it should be referring to the relevant UK legislation rather than the MLC itself.
The ILO requires that these domestic laws and provisions give full effect to the MLC, but there is flexibility in that it is left to each state as to how they will achieve this. Consequently, not all states have implemented the MLC in exactly the same way. The scope for variation between states in national implementation is extended even further by the express flexibilities found in the MLC itself.
Furthermore the MLC sets out the minimum standards which must be observed, so flag states may choose to only legislate accordingly or, on some provisions, they may opt to "gold plate" their domestic laws and go further than the minimum. For instance, the MLC requires that seafarers are entitled to a minimum of 30 days paid leave per annum, but the UK grants them 38 days (to put them on an equal footing with UK shore-based workers).
Due to the different ways in which the MLC can be implemented (as highlighted above) a book on the MLC itself (without reference to the relevant flag state's implementing laws and provisions) would be of very limited use. What is required for practical compliance purposes for anyone enquiring into the MLC obligations on a particular ship is a guide to the flag state's implementing laws.
Maritime Labour Convention 2006 - UK and REG Implementation describes the implementing laws and other provisions (such as Marine Guidance Notices (MGN's)) for the UK and other relevant REG members (Bermuda; Cayman Islands; Gibraltar; Isle of Man).
The book concentrates primarily on UK implementation which, to a large extent REG members have followed. Where the REG members' implementation differs, this is set out. In any case, each REG member has its own legislation, MGN's, and so on, and these will be named so that readers can refer to them for further detail if required.
The book generally follows the subject headings of the MLC, which sets out logical groupings of connected subject matter. The chapters also refer to areas where problems have been experienced in implementation, and advice and tips on how to comply is given. The sub-sections within each chapter also contain a checklist for compliance.