Keating on Construction Contracts 10th ed: 2nd Supplement (eBook)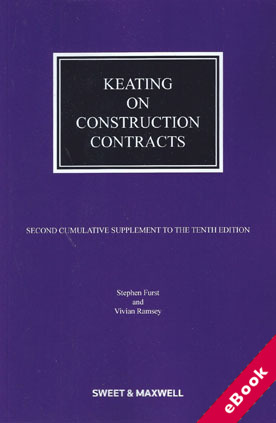 ISBN13: 9780414067936
Published: June 2018
Publisher: Sweet & Maxwell Ltd
Country of Publication: UK
Format: eBook (ProView)
Price: £124.00 + £24.80 VAT
The amount of VAT charged may change depending on your location of use.
The sale of some eBooks are restricted to certain countries. To alert you to such restrictions, please select the country of the billing address of your credit or debit card you wish to use for payment.
Sale allowed in
Anguilla
,
Antigua and Barbuda
,
Aruba
,
Austria
,
Bahamas
,
Barbados
,
Belgium
,
Bermuda
,
Bulgaria
,
Cayman Islands
,
Croatia
,
Cuba
,
Cyprus
,
Czech Republic
,
Denmark
,
Dominica
,
Dominican Republic
,
Finland
,
France
,
Germany
,
Gibraltar
,
Greece
,
Grenada
,
Guadeloupe
,
Guernsey
,
Haiti
,
Hungary
,
Ireland
,
Italy
,
Jamaica
,
Jersey
,
Latvia
,
Liechtenstein
,
Lithuania
,
Luxembourg
,
Malta
,
Martinique
,
Montserrat
,
Netherlands
,
Poland
,
Portugal
,
Puerto Rico
,
Romania
,
Saint Kitts and Nevis
,
Saint Lucia
,
Saint Vincent and the Grenadines
,
Slovakia
,
Slovenia
,
Spain
,
Sweden
,
Trinidad and Tobago
,
Turks and Caicos Islands
,
United Kingdom
,
Virgin Islands (British)
,
Virgin Islands (U.S.)
Sorry, due to territorial restrictions applied by the publisher we are unable to supply this eBook to United States.
The second supplement to the 10th edition of Keating on Construction Contracts brings the text completely up-to-date across all areas, including commentary on the major changes introduced by the NEC4 and the 2017 FIDIC suite of forms.
Key decisions and cases covered in the supplement include:
From the Supreme Court:
MT Højgaard A/S v E.ON Climate and Renewables UK Robin Rigg East Ltd, concerning the relationship between a fitness for purpose obligation and other specific obligations in complex contractual documents in relation to a wind farm;
Nuclear Decommissioning Authority v EnergySolutions EU Ltd, on public procurement; Wood v Capita Insurance Services Ltd in which principles of construction of contracts were again considered;
Sutradhar v National Environment Research Council and Robinson v Chief Constable of West Yorkshire (the basis for establishing negligence liability) Gabriel v Little on losses recoverable for breach of a duty of care; and
IPCO (Nigeria) Ltd v Nigerian National Petroleum Corporation on the ability to impose a condition of security when enforcing a New York Convention award.
From the Court of Appeal:


Transocean Drilling UK Ltd v Providence Resources Plc and Persimmon Homes Ltd v Ove Arup & Partners Ltd construing exclusion clauses and use of the contra proferentem rule;
Burgess v Lejonvarn [2017] on the scope of duty of care owed for gratuitous services; Carillion Construction Ltd v Woods Bagot Europe Ltd on extensions of time for delay after the date for completion;
Adam Architecture Ltd v Halsbury Homes Ltd on pay-less notices; and
Carillion Construction v Emcor Engineering on extensions of time.
Also included are the Court of Appeal decisions in


Narandas-Girdhar v Bradstock on relevance of deletions in construing documents;
Singularis Holdings Ltd v Daiwa Capital Markets Europe Ltd on illegality;
Kason Kek-Gardner Ltd v Process Components Ltd on forfeiture;
Ted Baker v AXA Insurance UK Plc on estoppel and duty to speak; and
First Abu Dhabi Bank PJSC v BP Oil International Ltd on dealing with assignment.
From the TCC:


Grove Developments Ltd v S&T (UK) Ltd on the ability to bring proceedings for the correct amount due for interim payments;
Costain Ltd v Tarmac Holdings Ltd on the meaning of acting "in the spirit of mutual trust and co-operation";
Imperial Chemical Industries Ltd v Merit Merrell Technology Ltd on payment after termination;
North Midland Building Ltd v Cyden Homes Ltd on application of the prevention principle where the employer excludes extension of time for concurrent employer's delay;
Fluor v Shanghai Zhenhua Heavy Industry Co Ltd on liability arising from global settlements;
Ziggurat (Claremont Place) LLP v HCC International Insurance Co Plc and Doosan Babcock Ltd v
Comercializadora de Equipos y Materiales Mabe Lda on bonds;
Borough of Milton Keynes Claimant v Viridor (Community Recycling MK) Ltd on rectification;
Mailbox (Birmingham) Ltd v Galliford Try Construction Ltd on assignment;
Riva Properties Ltd v Foster + Partners Ltd on liability for value engineering;
Bank of Ireland v Watts Group Plc on liability of quantity surveyors;
Alstom Transport UK Ltd. v London Underground Ltd (1) Transport for London (2) on lifting of suspensions in public procurement cases;
Bombardier Transportation Ltd v Merseytravel on confidentiality in public procurement claims;
Ian Rollitt (t/a CD Consult) v Christopher Ballard and Squibb Group Ltd v Pole 2 Pole Scaffolding Ltd on liens over arbitral awards and time for appeals;
Equitix ESI CHP (Wrexham) Ltd v Bester Generacion UK Ltd on preparatory work for construction operations;
Dacy Services Ltd v IDM Properties LLP on agreement of adjudicator and waiver of objection to jurisdiction;
Jacobs UK Ltd v Skanska Construction UK Ltd on costs in adjudication proceedings;
Clin v Walter Lilly & Co Ltd on obtaining consents as acts of prevention; and
Octoesse LLP v Trak Special Projects Ltd on obligation to issue a certificate of non-completion.