The White Book Service 2018: Civil Procedure Volumes 1 & 2 & Full Contents CD-ROM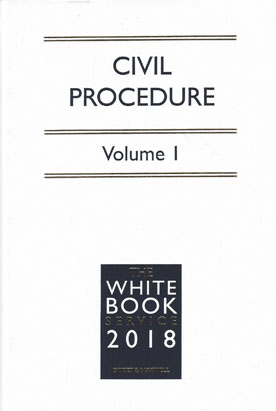 ISBN13: 9780414066663
Published: March 2018
Publisher: Sweet & Maxwell Ltd
Country of Publication: UK
Format: Hardback, 2 Volumes, Supplement & Full CD-ROM
Price: £965.00 + £34.88 VAT

Within 3 years of call? Download the Special Offer Order Form
New for 2018
The fourth edition of Costs & Funding following the Civil Justice Reforms: Questions & Answers. Depending on which format of the White Book 2018 you choose, your free copy will be delivered in the same format: it will be published in print and as an eBook using the award-winning ProView app.
The 94th CPR Update brought into force changes principally to the Civil Recovery Proceedings Practice Direction as a result of amendments made to the Proceeds of Crime Act 2002 (POCA) by the Policing and Crime Act 2009, the Crime and Courts Act 2013 and the Criminal Finances Act 2017. These changes came into force generally on 7 February 2018. Other amendments were made to Practice Directions 8A, 59, 60, 66, 75 and Business & Property Courts
All updates to the Civil Procedure Rules published in the 2017 Supplements, up to and including the Civil Procedure (Amendment No.2) Rules 2017 (SI 2017/889) and the 92nd and 93rd CPR Updates.
Volume 1
Part 1 (Overriding Objective) includes a new section on judicial bias and recusal.
Part 3 (The Court's Case & Costs Management Powers) – the commentary has been extensively rewritten and edited, in particular on Rule 3.9 (Relief from sanctions), which has been made substantially shorter than in previous editions given that, following the Court of Appeal decision in Denton v TH White Ltd [2014] EWCA Civ 906. [2014 1 W.L.R. 3296, case law on this rule has now substantially reduced. and on Rules 3.12 to 3.18, which cover Section II of Pt 3 (Costs management). These rules are Part 3's new growth area for important new case authorities and the commentary now includes an overview in the form of a ten point summary explaining the main steps to be taken and identifying the rules and sub-rules governing these steps.
Part 30 (Transfer) - updated to include commentary on the transfer of cases in the Business & Property Courts
Part 44 (General Rules About Costs) – commentary on Rule 44.2 (Court's Discretion as to Costs) has been revised to incorporate commentary from Rule 44x.3 (as it stood pre-April 1, 2013), in particular that relating to Conduct of Parties and Types of Costs Orders.
Part 52 (Appeals) includes new guidance on scope of 'appellant' and appeal where a witness wishes to challenge adverse comment in judgment from In Re W (A Child) (Care Proceedings: Non Party Appeal) [2016] EWCA Civ 1140. [2017] 1 W.L.R. 2415 and clarification of the test for permission to appeal where appeal seeks to challenge findings of fact: The Mayor and Burgesses of the London Borough of Haringey v Ahmed & Ahmed [2017] EWCA Civ 1861.
Awards of Interest – the topic of Interest has been drawn together from various Parts and Sections in the book and a new section created. Cross-references to it will be included in other relevant Parts, such as Parts 7, 12, 14, 36 and 40. Commentary on Interest on Costs stays in Part 44.
Volume 2


Court Guides – substantial updates to the Chancery Guide (taking account of new Business and Property Courts). and to the TCC, Mercantile and IPEC Guides
Business & Property Courts - a new section includes the Practice Direction and an Advisory Note.
Contempt of Court (Section 3C, Volume 2) has been fully updated and revised to take account of developments in this important and evolving field.
Rights of Audience (Section 13, Volume 2) includes revised guidance on rights of audience and is updated to take account of guidance from Attorney General v Vaidya [2017] EWHC 2152 (Admin), and the power to extend a civil proceedings orders to apply to acting as a McKenzie Friend.
In addition, the White Book 2018 includes:


Coverage of forthcoming CPR Updates
New case law, amendments and updates to commentary throughout
A selection of case law
Volume 1


Part 1 (Overriding Objective) - Zuma's Choice Pet Products Ltd v Azumi Ltd. McGann v Bisping
Part 3 (the Court's Case & Costs Management Powers) - Salekipour v Parmar. Davies v Carillion Energy Services Ltd. Richard v BBC. Freeborn v Marcal
Part 5 (Court Documents) - Dring v Cape Distribution Ltd. Concept Ltd v Cape Intermediate Holdings plc
Part 6 (Service of Documents) - Cyprus Popular Bank v Vgenopoulos. Al-Maki v Reyes. Brownlie v Four Seasons Holdings Inc. Dominic Liswaniso Lungowe & Ors v Vedenta Resources PLC
Part 7 (The Claim Form) – Mazhar v Lord Chancellor. Kennedy v National Trust for Scotland
Part 14 (Admissions) – Wood v Days Healthcare UK Ltd
Part 19 (Parties & Group Litigation) Bates v Post Office Ltd. Rosgosstrakh Ltd v Yapi Kredi Finansal Kiralama AO. McEneaney v Stevens. Welsh Ministers v Price
Part 25 (Interim Remedies & Security for Costs) – Birch v Birch. Premier Motorauctions Ltd v PricewaterhouseCoopers LLP
Part 30 (Transfer) - Stark v Walker
Part 31 (Disclosure & Inspection of Documents) – ZS v RS. Grosvenor Chemicals Ltd v UPL Europe Ltd. Director of the Serious Fraud Office v Eurasian Natural Resources Corpn Ltd. Ennis Property Finance Ltd v Thompson
Part 32 (Evidence) - McGann v. Bisping
Part 36 (Offers to Settle) - Martin v Kogan. W. Portsmouth & Co. Ltd v Lowin. Mohammed v Home Office. OMV Petrom SA v Glencore International AG. Optical Express Ltd v Associated Newspapers Ltd
Part 39 (Miscellaneous Provisions Relating to Hearings) - The Royal Society for the Protection of Birds Friends of the Earth Ltd v Secretary of State for Justice
Part 40 (Judgments, Orders, Sale of Land) - Cole v Howlett. Bath v Escott. MacInnes v Gross. Bloomsbury Law Solicitors v McPherson
Parts 44 to 48 (Costs) - SM (Afghanistan) v Secretary of State for the Home Dept. London Organising Committee of the Olympic and Paralympic Games v Sinfield. GSD Law Ltd v Craig Wardman of St Gobain Building Distribution (Pt 44). Peterborough & Stamford Hospitals NHS Trust v McMenemy (Pt 44). Michael Wilson & Partners Ltd v Sinclair (Pt 44). Flood v Times Newspapers Ltd (No.2) (Pt 44). BNM v MGN Ltd (Pts 44 & 48). Plevin v Paragon Personal Finance Ltd (Pt 48) Harrison v University Hospitals Coventry and Warwickshire NHS Trust (Pts 3 & 44). Budana v The Leeds Teaching Hospital NHS Trust (Vol 2, Litigation Funding)
Part 52 (Appeals) - Goldtrail Travel Ltd v Onur Air Tasimacilik AS. Aziz v Harb. The Mayor and Burgesses of the London Borough of Haringey v Ahmed & Ahmed. Chen v Ng (British Virgin Islands). General Medical Council v Theodoropolous (Rev 1)
Part 53 (Defamation Claims) - Lachaux v Independent Print Ltd
Part 54 (Judicial Review & Statutory Review) - Mulvenna and others v Secretary of State for Communities and Local Government
Part 82 (Closed Material Procedure) - R (K) v Secretary of State for Defence. Belhaj v Director of Public Prosecutions
Part 84 (Enforcement by Taking Control of Goods) - Midtown Acquisitions LP v Essar Global Fund & Ors
Pre-Action Protocols (Section C) - Caren Sharp v Leeds City Council
Volume 2


Part 62 (Arbitration Claims) Autoridad del Canal de Panama v Sacyr SA
Part 63 (Intellectual Property Claims) Magnesium Elektron Ltd v Neo Chemicals and Oxides (Europe) Ltd. Actavis UK Ltd v Eli Lilly & Co. Generics (UK) Ltd (t/a Mylan) v Yeda Research and Development Co Ltd
Contempt of Court (Section 3C) Liverpool Victoria Insurance Co Ltd v Yavuz
Data Protection (Section 3G) Stunt v Associated Newspapers Ltd
Prevention of Terrorism Proceedings (Section 3M) Bank Mellat v HM Treasury
Legal Representatives – Costs and Litigation Funding (Section 7) Richard Slade & Co Solicitors v Boodia. Hyde v Milton Keynes NHS Foundation Trust
Limitation (Section 7) Muduroglu v Stephenson Hardwood (A Firm)
Jurisdictional and Procedural Legislation (Section 9A) Aziz v Harb. Ali v Kingston Crown Court. Salekipour v Parmar. Abdela v Baadarani (No 2)
Alternative Dispute Resolution (Section 14) Menini v Bamco Popolare Societa Cooperativa (C-75/16)
Interim Remedies (Section 15) JSC Mezhdunarodniy Promyshlenniy Bank v Pugachev. Dell Emerging Markets (EMEA) Ltd v IB Maroc.com SA. Actavis Group PTC EHF v ICOS Corp
LEGISLATION (amending, updating or reproduced)


Housing: amendments made to various Acts by the Policing and Crime Act 2017, the Housing and Planning Act 2016 and the Homelessness Reduction Act 2017
Insolvency: the Insolvency (England and Wales) and Insolvency (Scotland) (Miscellaneous and Consequential Amendments) Rules 2017 (SI 2017/1115). the Insolvency (Miscellaneous Amendments) Regulations 2017 (SI 2017/1119). the new EU Regulation 2015/848 (replacing The Council of the European Union Regulation on Insolvency Proceedings 1346/2000)
Consumer Credit and Consumer Law: amendments made to the Consumer Rights Act 2015 by several Statutory Instruments
Discrimination: amendments made to the Equality Act 2010 by the Higher Education and Research Act 2017
Court of Protection Rules 2017 (SI 2017/1035) and associated Practice Directions
Non-Contentious Probate (Amendment) Rules 2017 (SI 2017/1034)
Wales Act 2017