Archbold: Criminal Pleading, Evidence and Practice 2016 (eBook)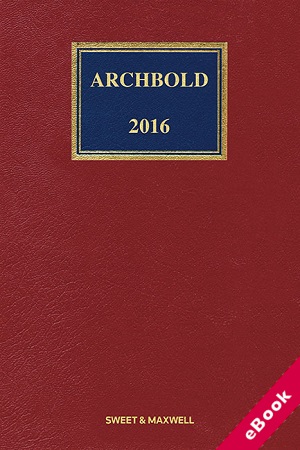 ISBN13: 9780414054448
Published: November 2015
Publisher: Sweet & Maxwell Ltd
Country of Publication: UK
Format: eBook (ProView)
Price: Out of print
The amount of VAT charged may change depending on your location of use.
The sale of some eBooks are restricted to certain countries. To alert you to such restrictions, please select the country of the billing address of your credit or debit card you wish to use for payment.
Sale allowed in
Anguilla
,
Antigua and Barbuda
,
Aruba
,
Austria
,
Bahamas
,
Barbados
,
Belgium
,
Bermuda
,
Bulgaria
,
Cayman Islands
,
Croatia
,
Cuba
,
Cyprus
,
Czech Republic
,
Denmark
,
Dominica
,
Dominican Republic
,
Finland
,
France
,
Germany
,
Gibraltar
,
Greece
,
Grenada
,
Guadeloupe
,
Guernsey
,
Haiti
,
Hungary
,
Ireland
,
Italy
,
Jamaica
,
Jersey
,
Latvia
,
Liechtenstein
,
Lithuania
,
Luxembourg
,
Malta
,
Martinique
,
Montserrat
,
Netherlands
,
Poland
,
Portugal
,
Puerto Rico
,
Romania
,
Saint Kitts and Nevis
,
Saint Lucia
,
Saint Vincent and the Grenadines
,
Slovakia
,
Slovenia
,
Spain
,
Sweden
,
Trinidad and Tobago
,
Turks and Caicos Islands
,
United Kingdom
,
Virgin Islands (British)
,
Virgin Islands (U.S.)
Sorry, due to territorial restrictions applied by the publisher we are unable to supply this eBook to United States.
With over 190 years' authority informing every page, Archbold is the reference work to cite in court, adding weight and credibility to your arguments. It concentrates on what the law is, rather than what it ought to be, covering both substantive law and the practice and procedure of the Crown Court. Separate chapters cover each indictable offence in depth, from forgery to murder, enhancing your understanding of the crimes relevant to your current cases.
Supplemented three times a year Archbold keeps you abreast of the latest developments in criminal law, from case law to new Statutory Instruments. Ten copies a year of the Archbold Review bulletin provides insight into the latest discussions surrounding developments in criminal law and practice from your colleagues and peers.
Supplement 3 was published in July 2016
Supplement 2 was published in March 2016
The Main Work & Supplement 1 was published in November 2015 You know as well as we do how quickly the law changes, and so you can stay completely up to date with the latest developments via the Archbold eUpdate, a weekly email alert containing all the relevant updates in criminal law that impact Archbold, cross-referenced by paragraph to the mainwork.. What's more, the content is archived online so you can access the latest information at anytime.

TOPICAL NEW COVERAGE:
Criminal Justice and Courts Act 2015 – this Act creates several new offences, including disclosing private sexual photographs or films with intent to cause distress ("revenge porn"), jury misconduct offences (in the Juries Act 1974), and the corrupt or other improper exercise of police powers and privileges (Chap. 31). It also amends the Prosecution of Offences Act 1985 to introduce the controversial criminal courts charge (Chap. 6), alters sentencing powers for certain serious offences, and makes a host of other amendments relating to criminal justice, all covered in the new edition.
Modern Slavery Act 2015 – this substantial new Act (see Chap. 19) includes the consolidation of the existing offences of slavery and human trafficking, an increase in the penalties for those offences, and the introduction of a statutory defence for slavery or trafficking victims compelled to commit criminal offences and new civil "slavery and trafficking prevention and risk" orders. Prosecution of the new offences is likely to become commonplace, rendering the Act of central importance for law enforcement and the courts.
Serious Crime Act 2015 – another wide-ranging Act which creates several new offences, including a hacking offence (in the Computer Misuse Act 1990), participating in the criminal activities of an organised crime group, sexual communication with a child (in the Sexual Offences Act 2003), possession of a paedophile manual, and controlling or coercive behaviour in intimate or family relationships. Among the numerous amendments to existing legislation covered in the latest edition, significant changes are made to the Female Genital Mutilation Act 2003 and the confiscation regime.
Criminal Procedure Rules 2015 – together with reissued Criminal Practice Directions (set out in Appendix B), both now substantially reorganised and amended.
Criminal Legal Aid (Remuneration) Regulations – important amendments to the 2013 regulations covered in Appendix G.