Craies on Legislation: A Practitioner's Guide to the Nature, Process, Effect and Interpretation of Legislation 10th ed with 2nd Supplement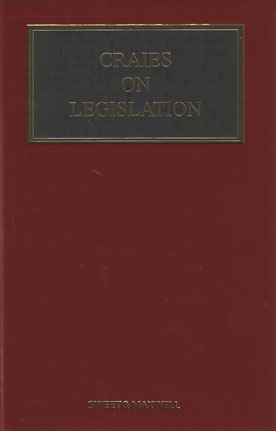 ISBN13: 9780414032156
Published: June 2015
Publisher: Sweet & Maxwell Ltd
Country of Publication: UK
Format: Hardback & Supplement
Price: Out of print

Craies on Legislation is a standard work on the effect and interpretation of legislation. It provides detailed guidance on assessing legislative intention and is a key reference tool for lawyers who have to administer, advise, argue or adjudicate on Acts of Parliament and statutory instruments.
It is a work of direct practical use for barristers, solicitors and the judiciary. It steers them clearly through a range of critical issues, such as the interpretation of words, what may and may not be implied if the meaning is unclear, what sources of information outside a statute may be used to throw light on its meaning, the effect of new legislation on existing law and the effect of an error in legislation.
The previous edition has been regularly cited by Parliamentary joint committees and relied on in prominent cases. The new 10th edition considers all recent developments in the law.
The 2nd cumulative Supplement was published in June 2015
The 1st Supplemet was published in October 2013
The Main Work was published in October 2012
Provides answers to the difficult questions often faced when interpreting a piece of legislation
Enables practitioners to keep on the right side of difficult legislation, such as the Human Rights Act and EU law
Addresses the practical problems that are likely to occur to the users of legislation, rather than academic concerns
Includes coverage of interpreting regulations and secondary legislation
Deals with European legislation, examining its nature, effects and interpretation