Lawyers and the Public Interest: A Study in Restrictive Practices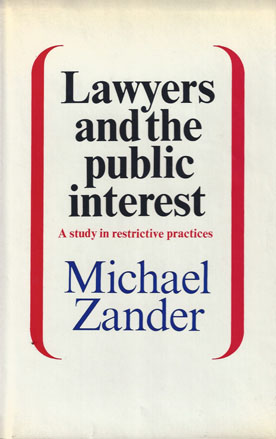 ISBN13: 9780297176053
ISBN: 0297176056
Published: September 1968
Publisher: Weidenfield & Nicolson
Country of Publication: UK
Format: Hardback
Price: £10.00
(Second Hand)

Out of Print
This book presents a detailed critique of the maze of restrictive practices established by both sides of the legal profession. It is not only the first book to give an extended treatment of restrictive practices amongst lawyers, but also the first about this topic in any of the professions.
It contains an expanded version of the author's evidence to the Monopolies Commission (which is currently examining restrictive practices in all the professions). The author evaluates the profession's claim that the restrictive rules erected by barristers and solicitors are in the public interest even though they may limit competition and increase the cost oflegal services.
Some of the rules are peculiar to lawyers, such as the division between barristers and solicitors, and the 'two counsel rule', while others, like price-fixing, limitations on advertising and monopoly rights, are common to the professions in general.
The book will be highly controversial reading for lawyers, and for the general reader it will provide stimulating insight into a subject of public concern.