Blackstone's Criminal Practice 2017 (Book & 3 Supplements & eBook Pack)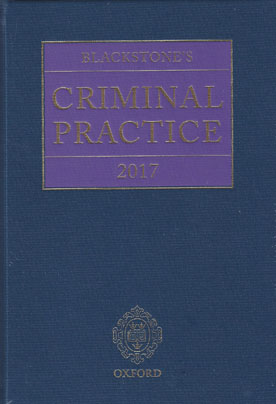 ISBN13: 9780198794066
Published: October 2016
Publisher: Oxford University Press
Country of Publication: UK
Format: Hardback, 3 Supplements + eBook
Price: Out of print

26th October 2016- we have just been advised that the eBook is now live.
Led by David Ormerod QC (Hon) and David Perry QC, our team of authors has been hand-picked to ensure that you can trust our unique combination of authority and practicality. With a simultaneous supplement containing essential materials, you can rely on Blackstone's Criminal Practice to be your constant companion through every courtroom appearance.
This new edition has been meticulously revised to provide extensive coverage of all new legislation, case law, and Practice Directions. With supplements, free quarterly updates, and monthly web updates, you can trust Blackstone's Criminal Practice to provide reassurance on all the latest developments in criminal law and procedure.
Your single point of reference for the criminal courts
Professor David Ormerod QC (Hon) and David Perry QC lead a team of contributors whose courtroom expertise you can rely on
Clear, common-sense navigation coupled with a logical, intuitive structure - instant access to the information you need
Superfast app for iOS and Android alongside an eBook for PC and Mac ensures that you have access to the latest devleoments in criminal law and procedure - wherever you are
Practical guidance on sentencing and procedure - your essential companion through every stage of every trial
Useful materials supplement contains the materials you need to access most frequently - includes the full updated text of the Criminal Procedure Rules, the Criminal Practice Directions, and the Sentencing Guidelines
Supplements, quarterly updates, web updates, and email alerts keep you fully abreast of all developments
New to this Edition:


Coverage of all new developments including the Psychoactive Substances Act 2016, the continued implementation of the Serious Crime Act 2015 and the recent Supreme Court case of Jogee as well as the updated Criminal Procedure Rules (integrated with the Criminal Practice Directions) and Sentencing Guidelines