French Law: A Comparative Approach 2nd ed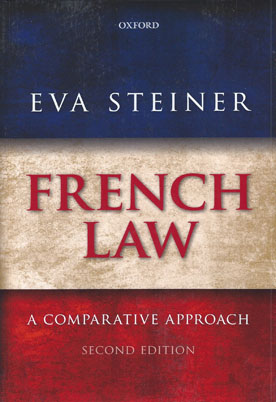 ISBN13: 9780198790891
Published: March 2018
Publisher: Oxford University Press
Country of Publication: UK
Format: Paperback
Price: £39.99

The second edition of French Law: A Comparative Approach provides an authoritative, comprehensive, and up to date account of the French legal system and its internal workings.
It sets out the institutional frameworks, substantive law, and methodologies that underpin the system, and provides expert insight into the civil law way of thinking and an explanation of how law is made and enforced in France.
It offers detailed case studies of how French law is shaped in practice in key areas, including commentary on landmark cases that have shaped modern French law.
Illuminating and insightful comparisons to other legal jurisdictions are made throughout, helping readers appreciate the distinguishing features and unique nature of the French legal landscape.
New to this Edition:-
Revised and fully updated with the latest case law and developments
Evaluates the core elements of the 2016 reform of the law of obligations, a milestone in the development of French contract law
Commentary on constitutional reforms such as the Question Prioritaire de Constitutionnalite and the Défenseur des Droits as well as broader trends, most notably in the context of the civil and criminal justice systems
Sets out new guidelines regarding the practice of judicial selection in France and judgment writing
Explores the reform of the Law of Civil Liability