Smith, Hogan, & Ormerod's Text, Cases, & Materials on Criminal Law 12th ed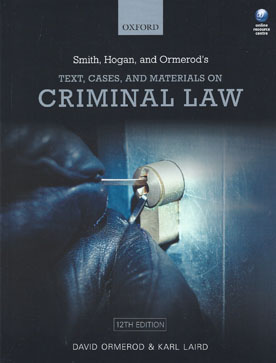 ISBN13: 9780198788713
Published: July 2017
Publisher: Oxford University Press
Country of Publication: UK
Format: Paperback
Price: £37.99

Smith, Hogan, & Ormerod's Text, Cases, & Materials on Criminal Law is a thorough and accessible guide to criminal law, combining extracts from key cases and statutes, together with invaluable extracts from expert reports and articles.
Ormerod and Laird expertly guide the reader through the various facets of the law while posing numerous questions for further investigation and reflection.
The contents of the twelfth edition have been substantially revised and restructured to closely match the structure of contemporary courses. This new edition includes significantly more explanatory text and third-party critical commentary, ensuring that the book is suitable for use as a core textbook. This book provides the law student with everything they need to develop a thorough understanding of this fascinating subject.
Online Resource Centre
This book is accompanied by a selection of online resources, including detailed annual updates, useful web links, and outline answer guidance to selected in-text questions.