Insurance Day: Print + Single-User Online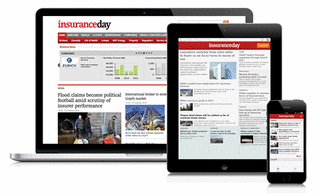 ISSN: 1461-5541PO
Latest Release: January 02, 2019
Publisher: Informa Subscriptions
Country of Publication: UK
Format: Newspaper + Online
Price: Price on Application

Subscription Type: Annual Subscription
Domestic Renewal Price: £3312.00 including VAT of £552.00
Overseas Renewal Price: £3900.00
Insurance Day is the only daily newspaper dedicated to the global insurance, reinsurance and risk management industry. Not only does it bring its readers the latest insurance industry news, it goes further than other daily insurance news services by uncovering the story behind the news. It strives to provide you with the best insurance market coverage, from an editorial team that stretches around the globe.
With your annual subscription to Insurance Day you will receive:
The hardcopy newspaper delivered 5 days a week – that's 240 issues per year to ensure you receive the best analysis on all the latest insurance industry developments.
A weekly email summary of the major insurance news from the past 5 days to ensure that you don't miss out on any of the week's major news.
Breaking news email alerts keeping you right up to date with current events in the insurance industry as they happen.
Insurance Day
has recently been extended to include the World Insurance Report, Re Report, Alternative Insurance Capital, and Insurance Regulation and Accounting, reflected in the extended editions on Tuesday and Thursday each week.