White & Tudor's Leading Cases in Equity 9th ed: Volumes 1 & 2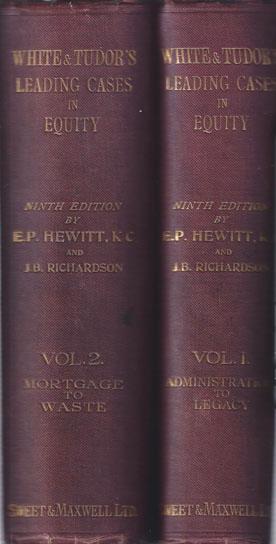 ISBN13: 004812
ISBN: 004812
Published: June 1928
Publisher: Sweet & Maxwell Ltd
Country of Publication: UK
Format: Hardback, 2 Volumes
Price: Out of print

New legislation, and the length of time (eighteen years) since the last production of this work, have required very considerable alterations to be made in the present edition.
With the exception of Agar v. Fairfax (relating to partition), the cases which appeared in the previous edition have been allowed to stand; but some of these cases, e.g. Strathmore -v. Bowes (fraud on marital rights) and Elibank v. Montolieu (a wife's equity to a settlement) have been dealt with very briefly, on account of their greatly reduced importance.
Certain repetitions which appeared in previous editions have been struck out and many of the passages have been re-written. The work as a whole has been materially shortened ; and it is hoped that this fact will increase its utility to the profession.
It should be mentioned that extremely useful work was done in connection with the first volume and also the first part of the second volume by Mr. H. V. Batchelor, who, however, is now joining the other branch of the legal profession. The laborious but important work of indexing has been carried out by Mr. Dougal Meston, a member of Lincoln's Inn.
Leading Cases in Volume I: Administration to Legacies
Administration
Assignment
Boundaries
Compromises
Constructive Fraud
Conversion
Donatio Mortis Causa
Election
Equitable Estoppel
Guardian and Ward
Husband and Wife
Jurisdiction
Legacies
Leading Cases in Volume II: Mortgage to Waste
Mortgage
Notice
Penalties and Forfeitures
Powers
Satisfaction
Specific Performance
Sureties
Trustees
Trusts
Vendor and Purchase
Waste